What's a guy like you doing in a place like this?
My name is John Weigel. As an Australian citizen and expat American, my current focus on American birding has been as circuitous as it has been unlikely. Because I get asked about this quite often by American and Australian birders that I meet in the field, I've provided a salient biography – predictably pivoting around my life's main purpose: the Australian Reptile Park. Skip to the blog posts if more interested in birds than some dude's zoo-keeping career, and I won't blame you.
I grew up in the US (mostly Colorado), attending CU on an athletic scholarship for pole-vaulting. After a sports-ending back injury during my first year at Boulder, my lifelong love of reptiles helped fill the void of that shattered dream, but soon led to my expulsion from the dormitory system after other residents complained about the burgeoning collection of snakes maintained in my dorm room. A total of five years was spent drifting around through various college majors (including a semester studying Anthropology in southern Mexico), whereafter  I took a break in my 'studies' to work at the now defunct California Alligator Farm in Buena Park. My parents were so pleased. After a year of 'gator wrestling and zoo-keeping, while still in possession of four intact limbs, I crossed the Pacific to seek a future at the Australian Reptile Park, north of Sydney. This was something I'd dreamed of doing since my mid-teens, after reading Reptiles of Australia and Song of the Snake by the park's famous founder, Eric Worrell. Although my written correspondence from Mr Worrell was the opposite of encouraging, after several weeks of cajoling and pleading on a face to face basis, I managed to get a foot jammed in the door – whereafter I've never really looked back.
The Australian Reptile Park
Upon my arrival at the Reptile Park, it was evident that the halcyon days of big crowds, wildlife documentaries, and national relevance for the tourism icon had all but faded. The decline in attendance had begun with the late-1970s construction of a four-lane freeway redirecting north-bound traffic out of Sydney to bypass the entire Central Coast region – within which the Reptile Park had previously served as a tourism drawcard. The Park's annual attendance of up to 150,000 visitors was all but halved overnight. In failing to adapt appropriately, the business had become insolvent by the late 1980s, and the property was offered to the open market by the owners as a prospective residential development site. At this time my wife Robyn and I (she has been working at the park even longer than I have) recognised the commercial potential of the attraction, and with the financial and strategic support of local businessman Ed Manners, we put together a rescue strategy that eventually led to our own outright ownership. In 1996, following a two-year development and construction period, Robyn and I shut down the 38-year-old facility in Gosford and opened the 'new' Australian Reptile Park at nearby Somersby, in spectacular bushland settings in proximity to the very freeway that had earlier threatened the survival of the business.
The new attraction struck a chord within the targeted market of young families residing in the Sydney and Newcastle regions, paving the way for a series of national tourism awards, and a steady climb in annual attendances to over 250,000.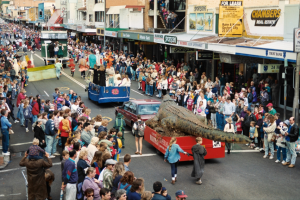 The Australian Reptile Park has enjoyed a close connection to the local community for over 60 years – due in part to its life-saving role in the production of snake and spider antivenoms. To mark the Park's relocation from Gosford to nearby Somersby in September 1996, a celebratory parade was organised by civic leaders. The event featured over fifty reptile-themed floats from local businesses, schools and media outlets, and local marching bands, cheered on by an estimated 15,000 well-wishers – the biggest turnout on the streets of Gosford since the boys spectacularly returned home from WWII.
Although most of the exciting projects that I've been involved in over the decades have decidedly been team efforts – with Robyn most often in the mix, I was singled out in 2008 for the highly prestigious Member of the Order of Australia Award.
Today, beyond its core tourism activities, the Reptile Park's snake and spider venom production programs play a vital role in saving up to 300 lives every year in Australia and Papua New Guinea. Our ambitious conservation initiatives (Devil Ark www.devilark.org.au and Aussie Ark www.aussieark.org.au) are widely lauded for their innovative, cost-effective applicability, and targeted, measurable outcomes. The sense of ownership and purpose of our fifty-odd highly motivated staff members across the diverse areas of general tourism, zoo-keeping, venom production and off-site conservation programs, contribute fundamentally to the ability of the organisation to achieve its equally diverse and ambitious goals.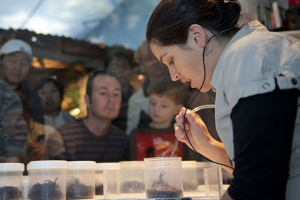 Curator and co-director Liz Vella extracts venom from a Sydney Funnel-web Spider – the world's most dangerously venomous arachnid species. Before Robyn Weigel pioneered this method of venom collection several decades ago – as required to facilitate the development and production of life-saving antivenom, there were up to six tragic fatalities annually – the victims most often being local (Sydney and Central Coast) children. Not surprisingly, Robyn received a humanitarian award from the local community for her contribution to the solution.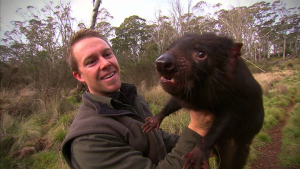 Under the leadership of the force-of-nature that is General Manager and co-director, Tim Faulkner (here with a Tasmanian Devil at Devil Ark), and with the help of American-based Global Wildlife Conservation and other partners, our conservation projects and activities are playing a valuable role in the campaign to reverse Australia's shocking mammal extinction rate, and to help slow the frightening decline of our freshwater turtles.