About this blog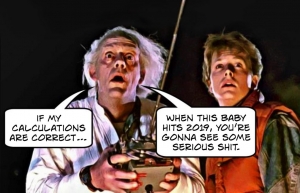 The intention of the Back to the Future Big Year blog is to provide periodic trip reports and general updates recounting highlights of my 2019 'Big Year' of birding in the American Birding Association (ABA) area. Following the annexure of Hawaii in 2016, the ABA area now includes all of the states and territories of the US and Canada, and adjacent waters (typically out to 200 miles). Acknowledging the irregularity of my blog communications during my 2016 American birding year, I recommend activating the subscription option to avoid frustration when visiting the site hoping for signs of life. Although the blog format doesn't allow for public comments, I can be contacted at birdingyear@gmail.com. Please keep in mind that my outsourced off-shore Complaints Department maintains a near-perfect track record of misplacing incoming correspondence.
Binocular vision
Following decades of reptile-inspired fieldwork throughout Australia's wildest places – with only a passive interest in the birds, my birding epiphany occurred a mere dozen years ago. Although this late arrival to the hobby dictates that I'll never be one of 'those' savant birders that the rest of us can only envy, I'll continue having fun trying to get there. I've certainly enjoyed packing just about as much birding as is humanly possible into the past decade – and not just during my three full-year birding missions- often to the frustration of those who once counted upon my commitments to work and home. 
As has been the case throughout my history of long absences from home in search of reptiles or birds, Robyn will join me from time to time in 2019 to share in the fun, and to help keep me sane (she's already called 'dibs' on two of my four planned Hawaiian terrestrial missions). The times that Robyn has joined me during my 2016 North American bird-year were amongst the most memorable.